Top 10 Tourist Places to Visit in Kovalam, Kerala
A cascade of hidden gems in God's own country, Kovalam is filled with fascinating places to visit. It's an internationally acclaimed region in Thiruvananthapuram, Kerala with immaculate beaches and a wonderland for serene vacations. You can find enthralling attractions as it's one of the most happening and popular tourist destinations in India. Discover renowned tropical villages, ayurvedic health resorts, ancient temples, old castles, and churches swaying you away the moment you bask in the 'Grove of Coconut Trees' – Kovalam! A mystical utopia will pamper you with astonishing views and admirable architecture. Make it your bucket list to witness nature's kindness in Kovalam.
Here's a list of the Top 10 Tourist Places to Visit in Kovalam, Kerala – A travel guide for your aesthetic trip!
Lighthouse Beach
One of the three crescent-shaped beaches, Lighthouse Beach is the most popular spot for spending quality time with your friends and family. The name of the beach is derived from the 30-35m tall lighthouse on the southern end coast of Arabian Sea which is made of stones with red and white bands. Offering eye-candy views of the surroundings, it acts as a landmark on top of Kurumkal Hill. A perfect destination for relaxation and leisure, Lighthouse Beach also has an observation platform from where you can get a glance at Poovar and Beempalli mosques on each side.
For being Kovalam's most iconic spot, it has various water sports activities, charming beach landscapes attracting photographers, turquoise water, rocking waves, palm fringes, gleaming sand, and a stunning lighthouse.
Things to do:
Take part in beach sports like paragliding, swimming, surfing, and parasailing, stroll around and enjoy the golden sunsets or sunrises, relish hearty meals and local delicacies in the beach shacks, and lastly, capture some amazing pictures for cherishing those moments of long time.
Hawa Beach
Surrounded by luxuriant coconut and palm plantations, Hawa Beach is one of the top tourist places to visit in Kovalam. As it's also part of the three crescent-shaped beaches, right opposite the lighthouse shoreline, Hawa Beach is gorgeous from dawn to dusk. Being known as Eve's beach, the glistening sand, lush palm trees, and blue water matches the blue sky, all of it becomes a picture-perfect backdrop! Although the water current is strong and it is advised to avoid swimming here.
Things to do:
It's always exciting to experience adventures like catamaran rides on the strong tides, go for a walk by the beach and enjoy the glowing tan lines while sunbathing.
Vellayani Lake
A beautiful storytelling spot, Vellayani Lake is a crystal clear large freshwater lake located just 7-9 km from Thiruvananthapuram city. In the midst of wide yet thick flora and fauna, this lake has its magical charm to attract tourists as it ranks high on the list of popular sightseeing places in Kovalam. Yearly, on the occasion of Onam, this place hosts an annual boat race which feels like a carnival. It's a must-visit destination to witness the epitome of beauty.
Things to do:
If you visit during Onam (one of the most famous festivals in India) you will get to witness the amazing Annual Boat Race which is organized on a larger scale in Vellayani. Besides, you can enjoy surrounding ecosystems, suburban landscapes, and local food while taking a walk around.
Kovalam Art Gallery
It's literally a mesmerizing Paradise for Art Lovers, Kovalam Art Gallery or Sree Chithra Art Gallery is definitely a must-visit place to explore. The moment you enter the realm you will be blown away by the paintings and artworks of famous painters. From the Mughal era to the Rajput era, you can witness some amazing artworks of ancient times and discover artefacts from China, Tibet, and Japan. The gallery displays remarkable and valuable Art which will make you awestruck throughout the trip. If you're planning a trip to Kovalam, Sree Chithra Art Gallery must come into the picture without even saying it as it's the top tourist place to visit in Kerala.
Things to do:
Find out the significance of the exclusive arts from a rare collection of fresco paintings, Raja Ravi Verma, Svetlova, and Nicholas Roerich. Plan a date and stroll around the gallery with your loved ones.
Neyyar Dam
Perched in Neyyar River on the foothills of the Western Ghats, Neyyar Dam is an ideal picnic spot in Kovalam. According to the placement of the dam, it formed a charming lake surrounded by forests that are home to wild animals. As it's a perfect place for nature admirers and picnic lovers, you can also explore attractions alongside the Dam like Sivananda Yoga Vedanta Dhanwantari Ashram and blissful Meditation practices. Besides, don't miss the wildlife sanctuary to enjoy the wilderness of nature. Seek serenity and relaxation amidst the dam as it also poses to be one of the most social gathering spots where you can just have a pleasant and fun evening.
Things to do:
Go on safari boats and high-speed boats, take pictures of abundant flora and fauna, get a close look at jungle cats, wild elephants, Nilgiri langurs, gaur, sloth bears, deer, crocodiles and many more in the wildlife sanctuary lastly, spend a quality time with friends and family during your trip to Kovalam.
Edakallu
Edakallu proudly boasts its beauty by showcasing ethereal golden sunsets. Missing out on this gem would be a big mistake! This sunset point is the favourite place for all travel photographers and nature lovers. Tourists come all the way to this point just to soak into the euphoria of oceanic views and revitalize themselves. The glimmering beaches and fresh blue waters matching the sky will sweep you off your feet every single time. It's definitely not the usual sunset by the beach kind of place, the rock between the Lighthouse and Hawa Beach is the place called Edakallu which is an absolute treat for your eyes to watch a striking sunset.
Things to do:
Have a delightful meal at nearby restaurants with your loved ones, explore the art galleries, and three crescent beaches, and play beach sports.
Chowara Beach
Being just a stone's throw away from the city, Chowara Beach is another famous beach in Kovalam that takes your breath right away. It's legit surrounded by churches and temples, you will be soaked in equanimity. The whole vibe of this beach is so aesthetically pleasing like the sparkling white waters and lush green palm groves will embrace you with open arms. Also, Chowara Beach is encircled by several high-end Ayurvedic resorts which is a big retreat for your soul. Meanwhile, if you go a few meters up the street, you will see various souvenir shops to collect some memories. Moreover, the artistic landscapes of the beach are a perfect backdrop for capturing beautiful moments. It's always the best feeling to walk around the bonny beach with your loved ones.
Things to do:
Unlock rejuvenation by treating yourself with ailments in the Ayurvedic resort. It will be a wellness experience for you to cherish the serenity behind it. Enjoy a picnic with your friends and family here and have fun activities to be indulged in while soaking into the mesmeric vibe of Chowara Beach.
Vizhinjam Rock Cut Cave Temple
One of the ancient temples found in India, Vizhinjam Rock Cut Cave Temple is the top tourist attraction in Kerala. If you're fond of centuries-old architecture, this place is for you! Located just 17 kilometres from the city, this temple has been under the jurisdiction of the Archeological Survey of India since 1965. You will discover the imperfect sculptures of Lord Shiva and Goddess Parvati. This temple is more than an old rock shrine as it gives you a soul-cleansing experience that can be cherished for a long time.
Things to do:
Visit the village around the temple and explore the beauty of Kerala. Also, find a cute marine aquarium along the way to the temple and witness the marine life.
Vizhinjam Marine Aquarium
The embodiment of marine life can be seen here, Vizhinjam Marine Aquarium is a treat to your eyes as you get to experience a mini sea world up close. This charming marine museum in Kerala is officially known as Sagarika Marine Research Aquarium. It is administered and managed by the Central Marine Fisheries Institute. This is also one of the most popular tourist places to visit in Kovalam, especially among families and kids. Learn about different types of marine creatures like piranhas, cowfish, seahorses, triggerfish, shark surgeonfish, angelfish, and many more. It's one of the exciting places to visit while going on a Kovalam trip.
Things to do:
While learning about marine life here, you can also explore and acquire knowledge about pearl production. Spend time with your kids, family, and friends by discovering the inventions of mother nature.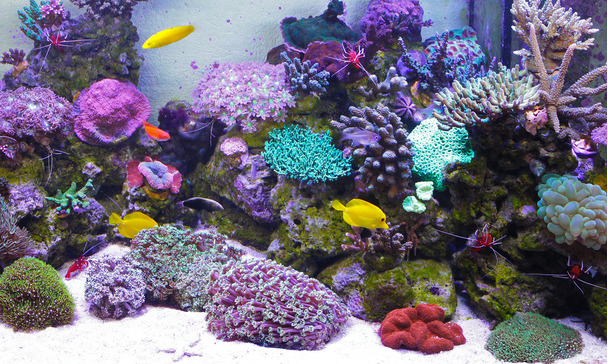 Samudra Beach
A picture-perfect beach, Samudra Beach is a spellbinding spot in Kovalam where you can literally dwell in the realm of a charismatic vibe. It's the essence of true beauty in nature. Being the pride of three crescent beaches, it is a famous honeymoon destination that boasts beautiful sunrise and sunset views. By exuding a calm yet serene atmosphere, Samudra Beach always draws tourists' attention throughout the year. For spending some relaxing time on your Kerala trip, there are various homestays run by local people with authentic Kerala vibes
Things to do:
Go for sunbathing, stargazing, soaking in the waves and If you are looking for some serene resorts to book a staycation you can opt for The Byke Puja Samudra, Kovalam which is right on the Samudra beach which has picturesque views and a tranquil environment. It not only has exquisite hotel amenities but also excels in top-notch hospitality services. Click plenty of pictures and collect memories to cherish forever.
Ashwini Achary – The Byke Team